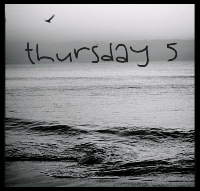 Linking up with Nicole at
Flip Flops and Combat Boots
for Thursday Five. I CANNOT believe it is already June of 2011. Where in the world.. does the time go.
This week the words are
Fascinating
Pleasant
Sweet
Sensational
Heartwarming
I think it is
Fascinating
that people can be so ignorant. They talk before they think. I am not going to rant about it.... but seriously.
I have had a
Pleasant
week. I had Monday and Tuesday off, and I got a lot finished in my school work. It was quiet where I was. It was just very nice.
I got concert tickets tonight... (will disclose band at a later date..) I am stoked!!
SWEET
!
This band...
Sensational
Today was my boss's birthday. She texted me at 8:00pm and asked me to come to her house for cupcakes. It was very
Heartwarming
to be thought of... Love my job.