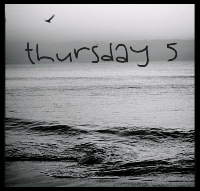 Thursday Five from over at Flip Flops and Combat Boots! Yay! I am getting into this blogging thing... And this is such a cute idea! So this weeks words are
Simple
Joyful
Refreshing
The fact that my little boy is home and getting better is

Excellent

. I was so worried about him last week. I've already told the story...
I received one
simple
yellow rose this week for mother's day. It was a beautiful sentiment
I feel
joyful
that I am starting my journey in completing school. My first class starts Monday. But my teacher has already posted everything online. I'm a little nervous, but super JOYFUL and excited that I am going back...
Glamorous
is a hard word for me. I don't usually feel glamorous... maybe its time to change that!
I am doing the
6th Annual Run for the Warriors
5k this weekend! This is going to be
refreshing
! My second 5k. And hopefully there will be many more. I am a little worried about my knee however. It is an old lady knee.. :)