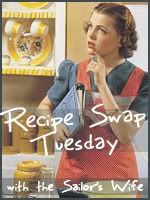 Yay for recipes!! I love to cook! The theme this week is grilling!
I am going to give my simple corn on the cob recipe for the grill (who doesn't know how to grill corn on the cob. still...) And also my favorite dessert (i am not a dessert eater... but i LOVE this one!) Frozen Peanut Butter Pie... mmm
Corn on the Cob
What you need:
Corn ears - shucked and cleaned
Butter
Salt and pepper to taste
Garlic (also to taste... if you use real garlic, I use about a clove per 4 ears.)
Tin foil
Place ear on the tin foil. Add butter, salt, pepper, garlic and wrap tightly. Grill usually 20 minutes, turning occasionally (corn will caramelize too much if not turned often.)
Some people leave them in the husks, soak them in water, and then grill them... i like to grill the flavor right onto it! mmm
Frozen Peanut Butter Pie
2 graham cracker pie crusts
2 c. powdered sugar
1 c. peanut butter
8 oz. cream cheese
12 oz. Cool Whip
Mix together powdered sugar, peanut butter, and cream cheese. Fold in Cool Whip.
Divide mixture into 2 pie shells. Freeze. Set out few minutes before serving.